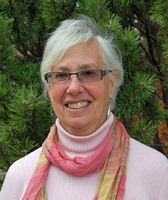 Sharon Kellermann
Broker,
Originally from New York City, Sharon was involved in teaching as well as parent counseling at Lexington School for the Deaf. She holds a B.S degree in child psychology from Cornell University & a Masters Degree in special education from Columbia University. Weekends spent skiing at Sugarbush led Sharon to vacation here during the summer months. She fell in love with the Mad River Valley and made it her permanent home in 1977.Still an avid skier, Sharon spends a lot of her spare time on the slopes. During the summer months, one can find her perfecting her game on the
Sugarbush Golf Course
:
Sharon is also a key member of the Valley Players Theater - famous for their beloved Cabin Fever
Follies, Valley Craft Fair and audience pleasing stage productions.
Always busy, nothing seems to slow her down. Not even the ovarian cancer that struck several years back. Now a cancer survivor, Sharon turned her ordeal into something positive by founding the Mad River Valley chapter of Kindred Connections, a cancer support group under the auspices of
the
Vermont Cancer Survivor Network
..